IMPORTANT NOTE: We are now located at: 222 New South Head Rd Edgecliff 2027 – just east of the old shop…about 80 metres east towards Double Bay on the corner of Ocean Ave.
COVID and Lockdown times.…please phone us on 02 93630203 or email before heading out to visit us; we are implementing 'click'/email or phone & collect/drop on the steps of the shopfront but no one will be able to enter the shop. Hours will be:         Tues – Sat 10am to 1pm and all Covid protocols will be followed.
Beginner violins available – freight free to anywhere in Australia – our Gasparo V5 violin (photos below) comes with a case (double back pack straps), bow, set up and quality strings by Warchal for $495.00. Sizes 4/4, 3/4, 1/2 & 1/4. Email us on: irwinviolins@hotmail.com for more information and to arrange payment/delivery.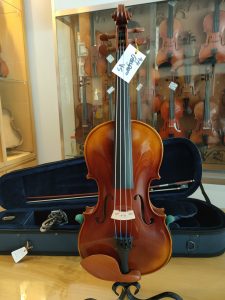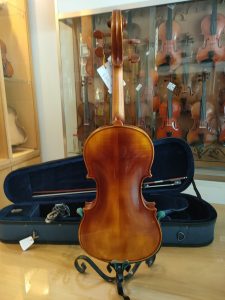 Above: Our New Shop Front
Below: the old shop showroom
Welcome  to  the  website  for  A R Irwin  Violins  Pty  Ltd. We are situated in Edgecliff, Sydney, NSW, and have been catering to the stringed  instrument  players  of  Australia,  South  East  Asia  and Oceania since 1987.
We sell and repair a wide range of quality violins, violas and cellos at a  price  to  suit  all   budgets   and levels of expertise, from  beginner to professional. We also have a full range of bows, as well as the usual stringed  instrument  accessories  such  as  cases,  strings,  shoulder rests, chin rests, mutes and rosins.
Our bow maker, James (Jim) Ellender, can take care of all your bow requirements; whether it be just a routine bow rehair; a commission on a new bow or  the most complex repair or restoration project. Examples  of  his  work  are  'hidden'  throughout  this web site – just take a tour around see his handiwork!
We do not have a "checkout" or "basket" section on our website (we are  usually  too  busy  running  the  workshop! )   –   if  you  wish  to purchase  something  from us or have a repair, please use the phone or  email  option  to  check what we are doing; we may be on holiday (or be ill with flu) on the very day you wish to see us!
ABN: 60 002 549 957
Last update: 22nd March 2021